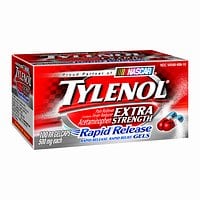 Brand: Tylenol (McNeil/Johnson & Johnson)
Execution: TV
Link: Click Here (It is the second-to-last ad entitled 'Pain Pill Holes')
Target: People in Pain
Rating: **
Reviewer: David
Description:
The spot opens with a black and white shot of a circle being cut which quickly pans back to six circles. We hear the sound of a laser tracing these circles. When the circles are cut, fizzing water rushes through them. We hear an announcer say, "Holes," as the camera zooms through the hole and then slowly back out to display the Tylenol gelcap as the voiceover continues: "The advanced technology behind Tylenol Rapid Release Gels. Laser-drilled design for Rapid Release." The shot backs off so that we can see the animated Tylenol gelcap fizzing under water. Then the spot cuts to a red screen and the words "Stop. Think." appear followed by the "Extra Strength Tylenol Rapid Release Gels" logo.
What Works:
The product demo at the core of this spot is elegant and efficient. The concept of rapid release is clearly demonstrated with simple but engaging animation. Simplicity is also the virtue of the entire spot, as it focuses the message of this product improvement around the seemingly simple technical advance that enabled it. An extremely well-executed spot.
What Doesn't:
Billion-dollar brands like Tylenol are masters of the small move. Every incremental improvement in product form, from Gel-caps, to Gel-tabs is cause for a full launch package including advertising and promotions that would do a new brand proud. In fact, this package is so well executed that it is very easy to miss the fact that the spot has no end benefit for the consumer. This is not accidental. Certainly the brand would have preferred to say something like 'faster acting' or 'relieves pain faster.' They did not do this for one of two reasons: either testing showed that gelcaps with those holes did not give test subjest faster pain relief or the brand did not want to wait for the completion of the regulatory studies and the FDA approval for these claims. Whatever the reason, the brand cannot tell consumers directly that there is any benefit to rapid release holes. Instead, this spot relies on an implied claim. Tylenol is counting on the association consumers will make between 'rapid release' and 'rapid action' and believe that quicker release will mean quicker relief.
This sleight-of-hand mars a slick spot and robs the ad of the meaning it ought to have for the consumer. Tylenol has spent billions of dollars becoming the most trusted consumer pain reliever and admirably handled a tampering scandal a generation ago. Producing advertising which attempts to get the consumer to make a logical leap that the brand cannot promise is misleading and beneath the high standards of the brand.
Branding Bottom Line:
Tylenol drills holes to drain our wallet.